Host Barry McKeever Interviews Local Santa Clarita Artist Naomi Young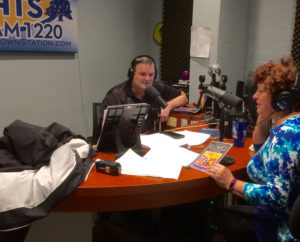 Barry is joined by local artist Naomi Young, who is set to host her "Domes" art exhibit at the Newhall Library on Wednesday, January 17th.
Domes — Artist Reception at Old Town Newhall Library.
The City of Santa Clarita is inviting residents to meet Naomi Young, the artist featured in the latest exhibit at the Old Town Newhall Library, according to officials.
The meet-and-greet event is scheduled for Jan. 17, and is set to start at 6:30 p.m., according to officials.
"The exhibit features original painting and multimedia by Young, an artist born and raised in Jerusalem, Israel, which translates to 'The City of Peace," the news release said.
Forty years ago, she had to leave Jerusalem, the release said of Young. But her love for the city never diminished and can be seen in her artwork on display in the "Domes" exhibit.
Listen to the Radio Interview with Artist Naomi Young Here:
The Old Town Newhall Library is located at 24500 Main Street.